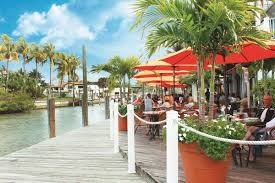 Matanzas on the Bay
GREAT FOOD, STUNNING VIEWS ABOUND AT MATANZAS ON THE BAY
Waterfront Dining Destination
Matanzas on the Bay
Florida well-known Fort Myers Beach is all about the sunshine, sand and water and, of course, delicious food. Nestled along the back bay of Fort Myers Beach since 1984, Matanzas on the Bay is an upscale-casual restaurant, serving as a popular destination for visitors and locals of all ages.
With lunch and dinner served daily, a sizzling batch of coconut shrimp, a tender Mahi filet or a decadent slice of homemade key lime pie are just a few examples of the local staples. At Matanzas on the Bay, these popular dishes come life with a side of idyllic waterfront views.
Fort Myers Beach offers a laid-back island setting that makes it easy to relax and unwind during your stay. And with live music daily and nearby waterfront accommodations at Matanzas Bayside Inn all just steps away from the Fort Myers Beach entertainment district it easy to stay and play. The restaurant also accommodates private events, providing an intimate waterfront setting for weddings, reunions, special gatherings and more at its bayside outdoor event area.
In addition to delicious food, stunning views and friendly service, Matanzas on the Bay is known as an advocate for local military outreach efforts, particularly through its longtime support of Operation Open Arms, a nationally acclaimed military outreach program that provides active, foreign duty U.S. service personnel every possible act of kindness through unique outreach services and PTSD mental health care.
Matanzas on the Bay has been honored with the opportunity to provide many free dinners and hotel rooms to soldiers through Operation Open Arms, and since 2014, has also held numerous fundraising events, including its Bluegrass, Brew and BBQ, Wine on the Waterfront and Matanzas Craft Beer Fest on the Bay.
There is no greater privilege than being able to encourage the many men and women of our military, and Matanzas on the Bay thanks those who have served, and continue to serve, to protect our country freedom.
Open daily from 11 a.m. to 10 p.m., Matanzas on the Bay is located at 416 Crescent St. on Fort Myers Beach. Free car parking and boat dockage is available for guests traveling by land or sea. To learn more about the restaurant and its offerings, visit www.MatanzasOnTheBay.com or call 239-463-3838.